Many people are unhappy with the appearance of their teeth. Luckily, modern dentistry has an array of tools to give people the Hollywood smile they deserve. One specific form of treatment are veneers. If you're not sure what these are, then read on to find out more.
Dental Veneers can dramatically change the appearance of your smile, and are extremely popular with celebrities. At Benson Dental we want to see our patients smiling and happy, and this cosmetic treatment can do just that.
What are dental veneers?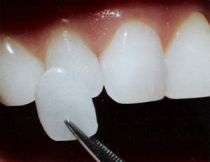 A veneer is a very thin piece of material made of porcelain or composite resin. It sticks on to the front of a tooth, essentially hiding it. Veneers are tooth-coloured so that people will think it is part of your actual tooth.
People choose to get veneers for various reasons, but usually it's because they are unhappy with the appearance of a tooth. This can be because the tooth is damaged (e.g. chipped, cracked or broken) or just worn down, discoloured or misshapen. Another reason to get a veneer is to protect the front surface of the tooth from damage.
What are the benefits of veneers?
Veneers can hide unsightly teeth and therefore give you confidence in your smile. They also last a long time (typically years). Some veneers may even last decades before they need to be replaced.
Dental veneers can give you healthy and natural looking teeth, doing amazing things to your self esteem when you smile. They are one of the least invasive dental treatments when it comes to tooth restoration. Unlike crowns, your teeth do not need to be reduced to a stump to have veneers fitted. Only a tiny amount of tooth enamel is removed so the resulting tooth is the right size and to provide a good bonding surface for the veneer.
The lifespan of a veneer depends on many factors, including how well the dentist made them and whether you grind your teeth at night.
How do dentists place your dental veneers?
Your dentist will need to remove some of tooth's enamel in order to make room for the veneer. Specifically, about half a millimetre of enamel is removed. Younger people with healthy teeth generally do not need veneers because there are usually other cosmetic options such as clear braces that may be more suitable.
Then the dentist will make a mould of the tooth. This is sent then to a dental technician who uses the mould to make the veneer to the right size. This stage usually takes a week to two. When the veneer is ready, the dentist will show you what it looks like in your mouth to ensure you are happy with it. Finally, the dentist will bond the veneer onto your tooth using a bonding agent.
Where can I find more information?
Veneers can transform your smile and improve your confidence and self-esteem. However, they are also a big decision to make because you will need to wear them for the rest of your life. Feel free to speak to us about your queries or concerns.